ID: 18080301

Components: EgoSecure Server, EgoSecure Agents

Operating system: Windows

The demo version of the EgoSecure Data Protection quickly gives you an overview of the functionality of the EgoSecure Management Console. Once the SSL certificate is downloaded and imported, you can open the mobile Console. It is not needed to install the EgoSecure Data Protection or an SQL database.

If you want to get an overview of the EgoSecure Agent client component in addition, download the MSI package and certificate for the Agent.

1. Double-click the EgoSecureConsole.exe file.

⇒ The Console login window opens.

2. Enter the connection data:

3. Click on the lock in the Server field.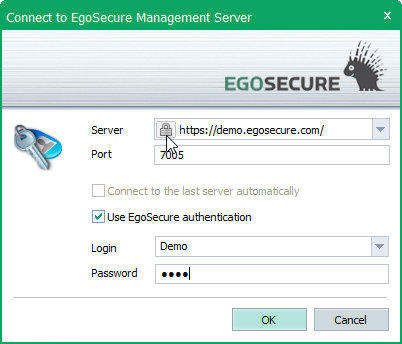 ⇒ A window where you need to select the certificate opens.

4. Click OK to confirm.

⇒ The lock in the Server field becomes green.

5. Enable the Use EgoSecure authentication check box.

6. Enter the login data:

Login : Demo

Password : Demo

7. Click OK .

⇒ The Console is now ready for use. The welcome dialog with first steps appears.

4. Double-click the MSI file.

⇒ The installation progress dialog appears.


⇒ Once the installation is finished, the Agent starts. In the rights section of the Windows taskbar, you will see the icon

.
6. Double-click the icon to open the Agent.

Resolving connection failure while opening EgoSecure Agent

If no certificate is available after installing EgoSecure Agent , the Agent remains inactive and the following message appears :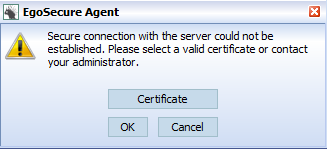 1. Make sure that a valid certificate is available for the computer and click Certificate in the massage to select the certificate from the certificate store. For details, see:
Importing certificate
2. In the EgoSecure Agent , click Refresh rights to enable it.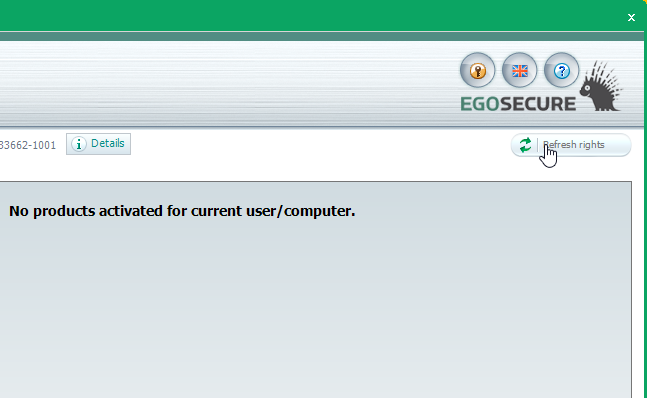 | | File | Platform | Size | Description |
| --- | --- | --- | --- | --- |
| | EgoSecureConsole.exe | Win x64 | 33.2 MB | Mobile Management Сonsole - EgoSecure Data Protection |
| | EgoSecureConsoleWin32.exe | Win x86 | 26.7 MB | Mobile Management Сonsole - EgoSecure Data Protection |
| | sslcert_console.p12 | Win x86 & x64 | 3.4 KB | SSL certificate - Management Сonsole |
| | ESAgentSetup.msi | Win x86 | 50.4 MB | EgoSecure Agent - installation paсkage for x86 systems |
| | ESAgentSetup_x64.msi | Win x64 | 55.8 MB | EgoSecure Agent - installation package for x64 systems |
| | sslcert_agent.p12 | Win x86 & x64 | 3.4 KB | SSL certificate - EgoSecure Agent |